Belfast Harbour Green Teacher of the Year Awards
Sponsored by Belfast Harbour and organised through Action Renewables, the unique competition came to a dramatic climax at today's environmental challenge day at W5, during which the six shortlisted teachers and their classes enjoyed an interactive 'Talking Rubbish' show and learnt how to invent wind-powered racing machines – as well as meeting the Environment Minster and Webster the Port Monster, Belfast Harbour's Environmental Guardian.
Environment Minister Edwin Poots said:
"I would like to congratulate every school who has participated in Belfast Harbour's Green Teacher of the Year award. It is encouraging to see so many teachers and pupils working so hard to create a greener environment. I believe the judges had a very difficult task this year with over 613 entries.
"It is heartening to see so many teachers doing excellent work in building care for the environment into the curriculum and demonstrating, through innovation, the benefits of a greener environment to young people. From speaking to the pupils here today it is clear to see a genuine enthusiasm for our environment and I am impressed by the inventive and varied approaches schools are taking."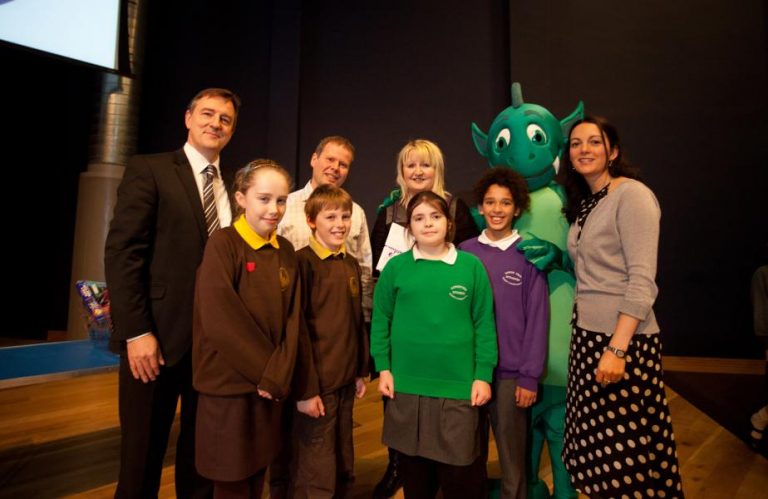 The Green Teacher of the Year 2010 Award was launched by the Minister in May, with every primary school pupil across Northern Ireland invited to nominate their teacher and explain, in no more than 100 words, the hard work their teacher does to look after the environment and educate children about 'green' issues. Mr. Stevenson has educated his pupils on the effects of global warming, saving water and biodegradable products, turning the school grounds into an outdoor classroom in the process, while Mrs McGauley taught her pupils about recycling batteries, clothes and CDs as well as starting an 'Eco Club'.
Congratulating the two winners and all of the teachers and finalists involved in the Challenge Day, Roy Adair, Belfast Harbour CEO, said:
"It was tremendous to see so many schoolchildren from across Northern Ireland interact with each other at the Challenge Day and be educated about the importance of caring for their environment in such a fun-filled way. The Harbour would like to congratulate all of the finalists, with particular praise for Mr Stevenson and Mrs McGauley on their success. The entries for what is the second year of the competition were so strong; it is no surprise that our expert judging panel could not separate the two joint winners.
"The Green Teacher initiative is a key element of our extensive engagement with schools and provides an excellent platform to present the message of environmental responsibility and accountability to society's future leaders."
As well as enjoying the Challenge Day, the successful teachers and their classes alsowon large hampers, musical workshops with the Ulster Orchestra and tickets for their class to see the 'Snowman' at the Waterfront Hall. The other finalists were Mrs Murray from St Anne's Primary School in Derry/Londonderry, Mrs Kenny from Edenderry Primary School, Banbridge, Mrs Toner of St Columba's Primary School, Draperstown, and Mr. Hanley from Carrickfergus Model Primary School. All other finalists received goodie bags in addition to a day out to participate in a workshop with the Ulster Orchestra.