Situated along Belfast's iconic waterfront, City Quays is a £275 million, office led regeneration project located on former docklands within Belfast City Centre, offering unparalleled views across the River Lagan, while remaining close to the City's core.
City Quays, which is comprised of commercial offices in City Quays 1, City Quays 2 and the newly completed City Quays 3, is Belfast Harbour's response to ongoing demand by inward investors and indigenous firms for new Grade A office space in Belfast.
Developing high-quality offices in the Harbour Estate has been successful in attracting blue-chip employers to Belfast, and support local businesses as they grow.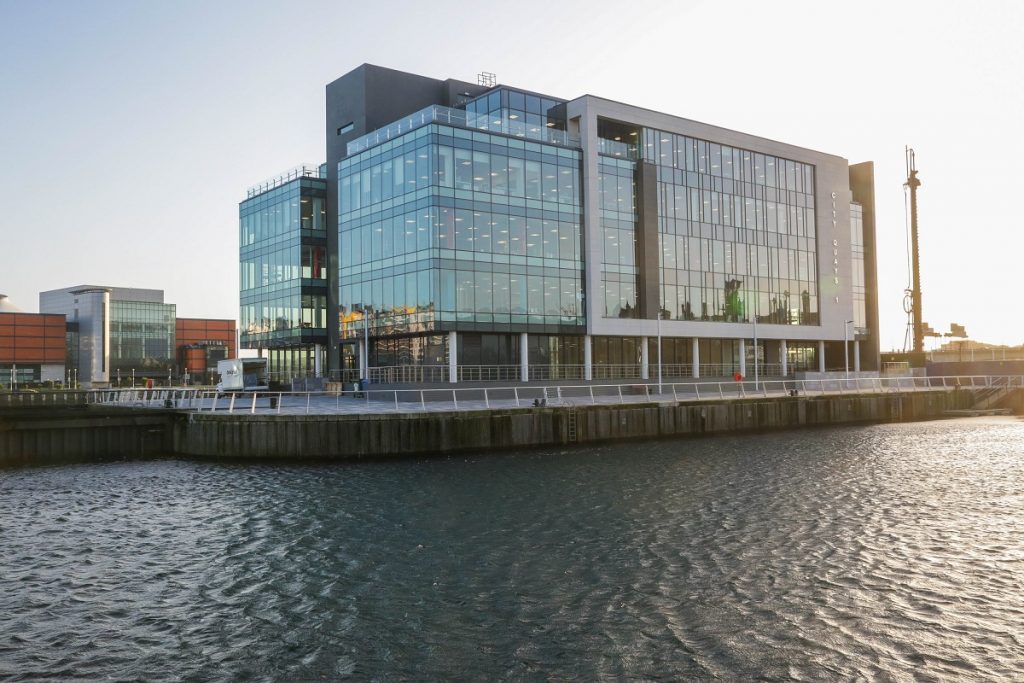 City Quays 1 and 2 offer a total of 18,00 square metres of office space, and have been designed to provide column free rectilinear works spaces, allowing maximum space planning efficiency and flexibility.
City Quays 3, Belfast Harbour's most recent development project, is now the largest Grade 'A' office development in Belfast with office fit-outs commencing Q2 2022.
This 16-storey 250,000 square feet, highly environmentally sustainable building, will include a tenant 'wellbeing space' together with views to the inner leisure harbour.
All three of the City Quays  office buildings have been developed to comply with BREEAM 'Excellent' ratings, an industry recognised award for sustainability, which places them in the top 10% of sustainable new buildings in the UK.
The depth and strength of the occupier base in City Quays stands testament to Belfast Harbour's strategy of providing high quality, flexible, and highly sustainable buildings.
Current tenants of City Quays  include Baker & McKenzie, ABL Group, BRS Golf, UTV, Aflac and TPICAP.
Please contact the City Quays development team for more information on letting office space in City Quays.
Other City Quays developments include a four-star, 188-bed, AC by Marriott hotel with a Michelin Chef Jean-Christophe Novelli restaurant and a 900-space multi-storey car park designed to complement the high quality office space adjacent. Details of the car park can be found here.
If you would like to find out more about the City Quays development or are interested in becoming a tenant, please do get in touch.
Harbour Office
Corporation Square
Belfast
Northern Ireland
United Kingdom
BT1 3AL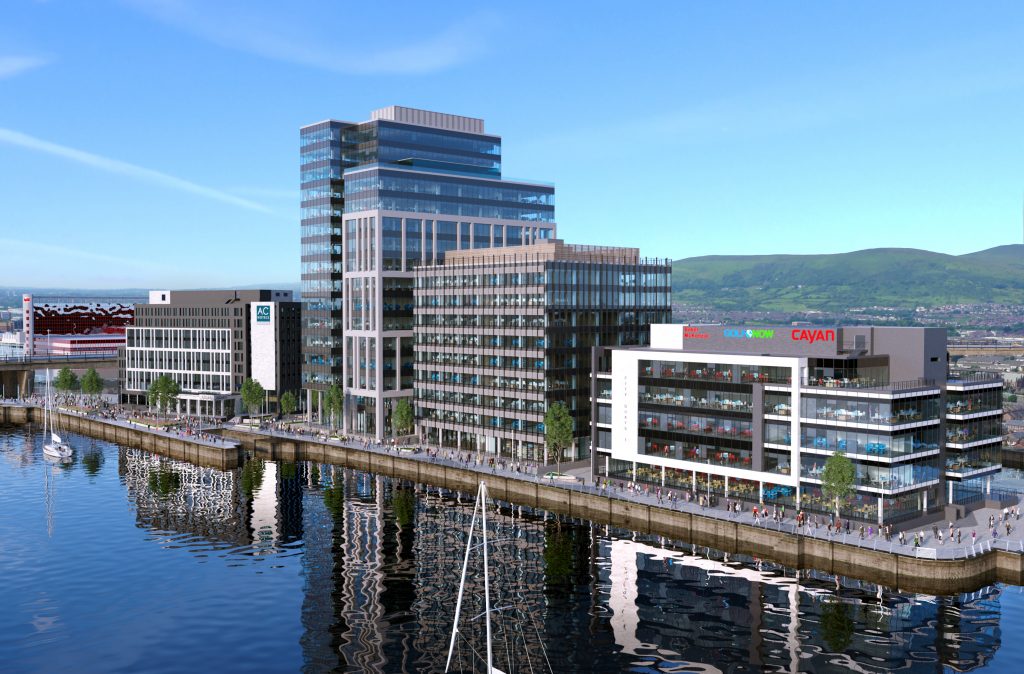 Column free, open plan flexible working areas

Waterfront location

Sustainable Design

Data connectivity
City Quays 3 – Floor Plans
Level 01
913 sq.m
9,827 sq.ft
Level 02
1,288 sq.m
13,864 sq.ft
Level 03
1,288 sq.m
13,864 sq.ft
Level 04
1,288 sq.m
13,864 sq.ft
Level 05
1,288 sq.m
13,864 sq.ft
Level 06
1,288 sq.m
13,864 sq.ft
Level 07
1,288 sq.m
13,864 sq.ft
Level 08
1,288 sq.m
13,864 sq.ft
Level 09
1,288 sq.m
13,864 sq.ft
Level 10
1,288 sq.m
13,864 sq.ft
Level 11
1,203 sq.m
12,949 sq.ft
Level 12
1,203 sq.m
13,466 sq.ft
Level 13
624 sq.m
6,717 sq.ft
Level 14
624 sq.m
6,717 sq.ft
Level 15
624 sq.m
6,717 sq.ft
TOTAL
16,831 sq.m
181,169 sq.ft
Belfast Harbour has also unveiled plans for a multi-million pound investment in its public space to create a vibrant new 'green' urban garden on a 0.8 hectare site adjacent to the City Quays buildings and the historic Belfast Harbour Office. City Quays Gardens will be developed with sustainability and environmental excellence as a key design focus to achieve the 'One Planet Living' environmental accreditation, a first in Northern Ireland. The proposed development will also provide new wellbeing amenity for people working in City Quays, as well as local and visiting communities, while blending the rich industrial and maritime heritage of the area with an innovative and sustainable design.
City Quays is centrally located close to a number of car parks, details of which can be found here.
As part of the City Quays development, Belfast Harbour are also preparing to develop a multi-storey car park with 900 spaces, which when complete will service the new City Quays Hotel, as well as the City Quays 1 and City Quays 2 office buildings.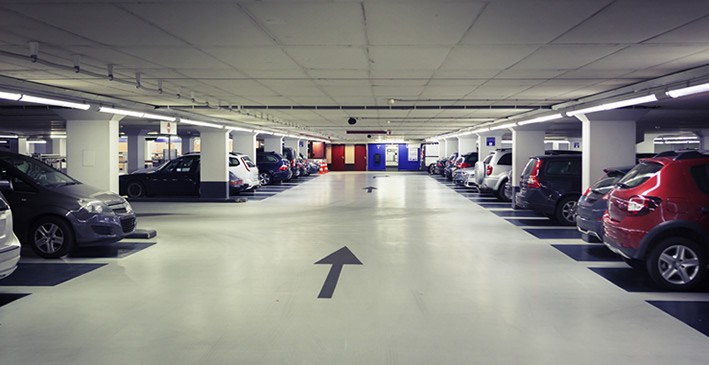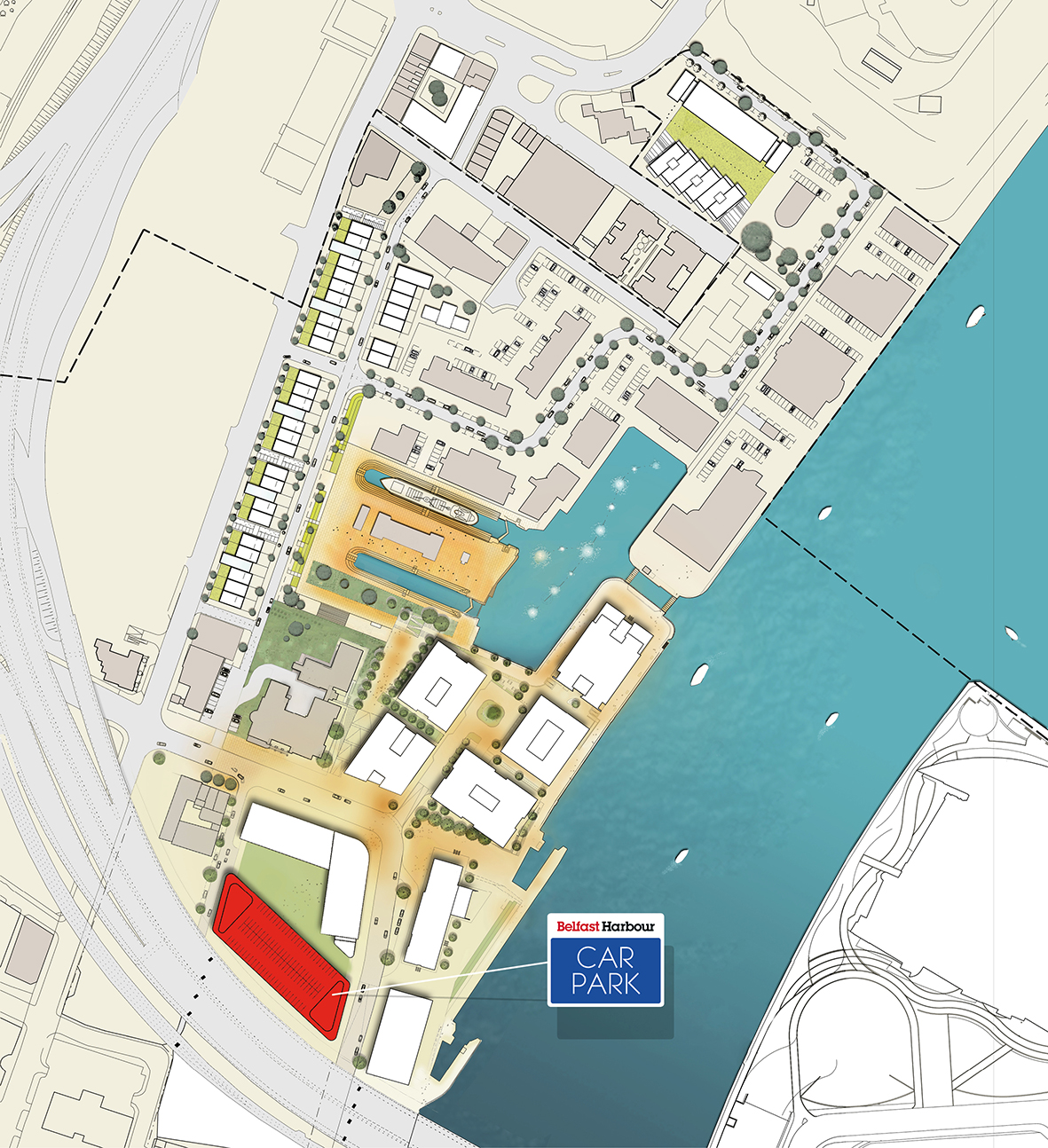 City Quays is centrally located in the very heart of Belfast City, just five minutes drive from George Best Belfast City Airport, and is therefore served very well by all forms of public transport.
BELFAST BIKE SCHEME
There are 30 Bike stations dotted around Belfast, one of which, station 3922, is located in Corporation Square, very close to the Belfast Harbour Commissioner's office building right beside City Quays.
The bicycle scheme is a subscription service, currently, the first 30mins of any journey are free, more details can be found at www.belfastbikes.co.uk including a map of all available docking stations.
A mobile app is available to assist you in locating and renting a bike.

BUS SERVICES
Translink Metro and Ulsterbus services cover not only Belfast City but the whole country.
The closest bus depot to City Quays is located at Oxford street, just a few minutes walk from City Quays.
Again there are apps available to help you in your journey planning.
RAIL SERVICES
Northern Ireland Railways are also operated by Translink.
Belfast's Central Station is about 15min on foot from City Quays at Maysfield. However there is a smaller station, closer at York Street.
A separate Translink "mLink" app exists to allow you to buy Day Return Tickets only.
Live Train information is available via Translink's Journey Check service or you can follow @Translink_NI on twitter.