Titanic Quarter's New Grade A Office Space in the Pipeline
Titanic Quarter Ltd and Belfast Harbour are progressing arrangements for the construction of Olympic House, a new 148,000 sq ft speculative office development.
Olympic House will be situated in the heart of Titanic Quarter, prominently positioned on the Queen's Road and Titanic Boulevard adjacent to the award winning Public Record Office for Northern Ireland (PRONI) and Belfast Metropolitan College.  
The Olympic House development represents a further £26.5 million investment in Titanic Quarter, creating state-of-the-art office accommodation for a further 1,500 jobs.  Work is anticipated to begin in autumn 2017 and take 18-months to complete.
Named after RMS Titanic's sister ship, Olympic House will incorporate two elegantly linked blocks of offices.  The six and seven storey offices will provide floor plates of 14,500 sq ft and 9,000 sq ft respectively. The inherent flexibility of the dual frontage design will allow the building to be let exclusively to one tenant, to two tenants with the benefit of separate reception areas or on a floor-by-floor basis.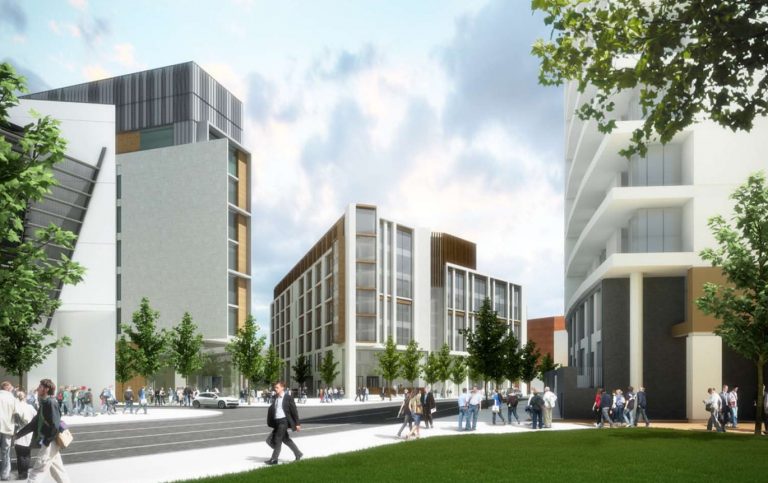 Olympic House already has full planning permission and will be developed to the highest standards as set by the PRONI building and Gateway Offices occupied by Citi. 
Speaking at the international real estate conference MIPIM, James Eyre, Commercial Director, Titanic Quarter Ltd, said:
"Olympic House will provide 148,000 sq ft of much needed Grade A office accommodation for growing local, national and International companies, and could help attract further Foreign Direct Investment.  The quality of companies locating and growing in Belfast demonstrates the attractiveness of the city to companies seeking to locate and expand operations."
Roy Adair, CEO, Belfast Harbour, added:
"The continued development of Titanic Quarter is a major opportunity to expand Belfast's global reputation as a location characterised by some of the best designed Grade A office space in Europe.

Belfast Harbour and Titanic Quarter Ltd will co-develop Olympic House via a new joint venture.  It's a partnership approach which marks the start of ambitious plans for the second phase of Titanic Quarter's ongoing development."
Titanic Quarter has attracted global investors and regional companies growing their operations, with more than 100 national and international organisations including Citi, Catalyst Inc, Microsoft, IBM, SAP and HBO based there. 18,000 people live, work, study and play in Titanic Quarter daily.
To date £425m has been invested with 1.5 million sq ft completed and a further 3 million sq ft with planning permission. 
A new 120-bedroom 'Titanic Hotel Belfast' is due to open this summer in the former Harland & Wolff headquarters building where the Titanic was designed.