Ulster Youth Choir On Tune with Help of Belfast Harbour
Six students from across Northern Ireland have been awarded a bursary from Belfast Harbour to take part in the Ulster Youth Choir's summer residential courses.
Six students from across Northern Ireland have been awarded a bursary from Belfast Harbour to take part in the Ulster Youth Choir's much sought-after summer residential courses, which will see them perform at concluding evening concerts led by Artistic Director, Dominic Peckham.
Every year Ulster Youth Choir visits post-primary schools and universities across Northern Ireland through an outreach programme supporting choral music for both young singers and music teachers. Through this programme the most talented young singers are selected and offered places on summer residential courses, where members receive singing lessons, musicianship classes, sectional and tutti rehearsals and evening masterclasses with the courses culminating in two evening concerts.
Speaking of the importance of the scheme, Belfast Harbour's Communications and Corporate Responsibility Manager, Jenni Barkley, said: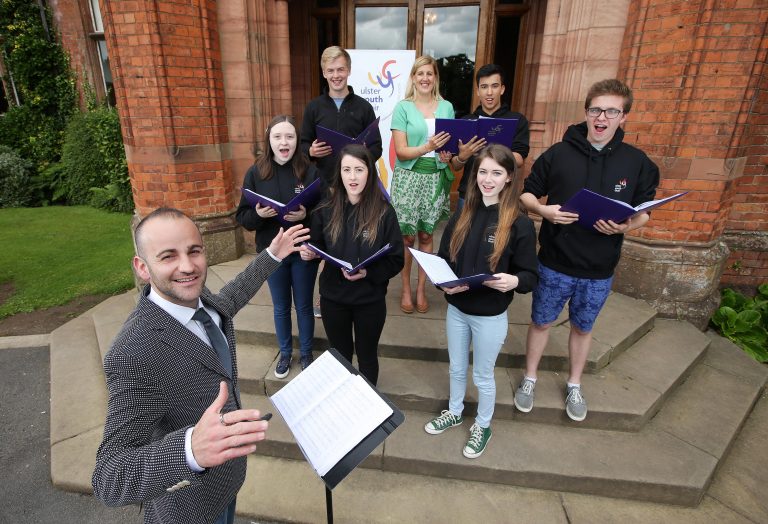 "Community outreach programmes such as this, are just one of the many ways Belfast Harbour actively supports the arts and young people. We're delighted to be able to help these six talented students take part in such a respected course, which has successfully helped previous participants develop their skills and experience and enabled them to further their musical careers. We look forward to enjoying the concluding concerts and wish all the students success in their musical development."
The successful students include Andrew Hutchinson, Bronagh McIlfatrick, Thomas Parke, Emma McMullan, Frank McMullan and Ronan Burke.
Shane Farren, Manager of the Ulster Youth Choir, said the courses have a huge impact on the musical and educational development of choir members;
"The support we receive from Belfast Harbour to deliver our bursary scheme is so important in enabling young people to access high quality music training which would have previously been out of reach. Many of our past students have achieved successful careers in music, with a number having received invitations from the BBC to participate in the Proms, while others have seen greatly improved academic results in their GCSEs, A-Levels and degrees in music."
Ulster Youth Choir (UYC) provides the best of Northern Ireland's young singers aged 14-26 with the opportunity to sing together to the highest possible standards receiving training from some of the finest choral and vocal practitioners from throughout the UK and Ireland. It is now regarded as one of Northern Ireland's leading artistic and educational organisations.