Harbour Trade Figures 'In The Black'
Trade through Belfast Harbour rose by 16% during 2013 with record tonnages of almost 23 million passing through the Port.
Trade through Belfast Harbour rose by 16% during 2013 with record tonnages of almost 23 million passing through the Port. Over half the increase, 1.7m tonnes, was fueled by an increase of over 150% in coal imports. This reflects a new service through Belfast to supply AES Kilroot power station which generates c.30% of Northern Ireland's electricity.
Overall, Dry Bulk cargoes, vital to Northern Ireland's agri-food and quarry industries, increased by 45% to a record 6.744m tonnes. Growth was also positive in other sectors such as Liquid Bulk (primarily petrol and diesel) which was up 2% to 2.173m tonnes, and freight traffic, up 8% to a record 466,000 vehicles during the year.
Break Bulk tonnages rose by 57% to 452,000 tonnes, driven by the Harbour's new offshore wind terminal operated by DONG Energy and Scottish Power Renewables. Trade in wind farm components rose from just 3,000 tonnes in 2012 to over 200,000 tonnes last year.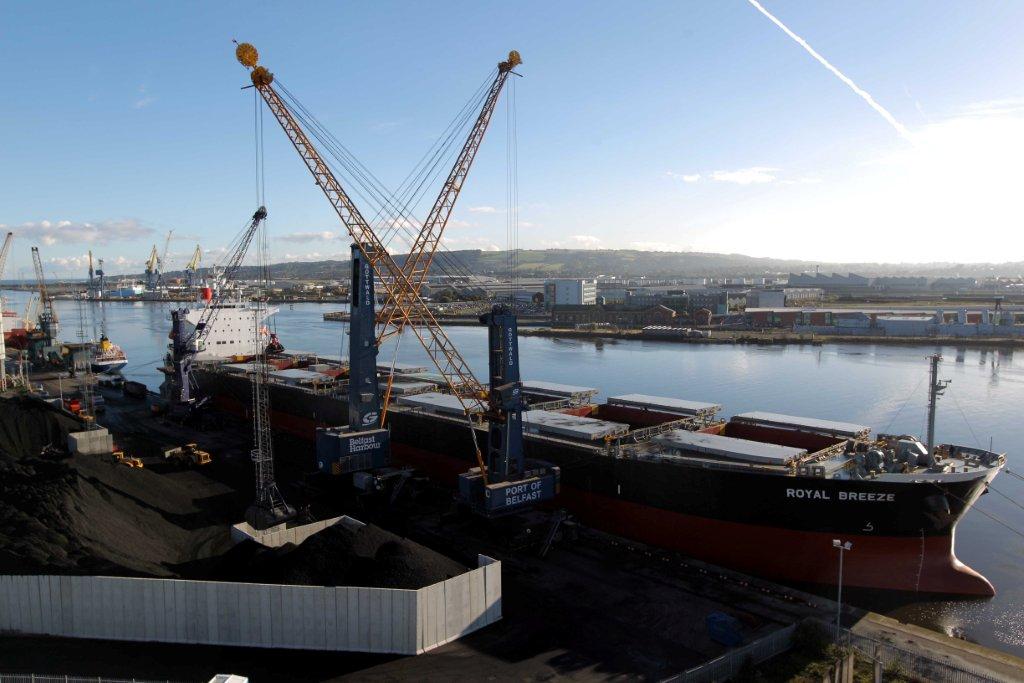 Roy Adair, Belfast Harbour's CEO, said:
"2013 has been a very positive year for Belfast Harbour as the economy started to recover slowly and investments in new facilities began to come online.  Coal tonnages have been particularly impressive following capital expenditure in new deep water facilities.  
"Likewise, Belfast's £50m investment in the UK's first bespoke logistics and assembly harbour to support offshore renewables is supporting significant growth in an industry which is benefitting not just Belfast Harbour, but the wider Northern Ireland economy.
"Major investments by Stena Line in new terminals and vessels is also encouraging growth, with increased traffic on all of Stena's routes from Belfast to Cairnryan, Heysham and Liverpool.  
"Tonnages are now 30% up on the pre-recession peak of 2007. Belfast Harbour remains committed to identifying new capital expenditure projects and initiatives to support further growth in tonnages and in the local economy."
Northern Ireland's Minister for Regional Development, Danny Kennedy MLA, added:
"The release of these figures clearly demonstrates the significant economic contribution that Belfast Harbour continues to make to Northern Ireland in terms of connectivity, jobs and the local economy.  These figures, together with the recent investment in DONG Energy and other ongoing projects, underlines the commitment of the Port to achieving the Executive's Programme for Government priority to grow the economy."
In addition to coal and wind farm components other bulk trades also grew strongly over the year.  Record years were achieved in scrap and stone tonnages, both rising by 28% to 327,000 tonnes and 1.22m tonnes respectively, while fertiliser imports rose 31%.  Animal feeds and grains rose 2% to 2.09m tonnes, a record year reflecting the continuing strength of the local agri-food sector.  
Joe O'Neill, Belfast Harbour's Commercial Director, said:
"2013 has been a particularly good year due to a number of major, long term investments by Belfast Harbour coming to fruition simultaneously.  In recent years the three trades which led growth in 2013 – renewables, coal and freight – have benefitted from dedicated capital expenditure by the Harbour totaling c.£100m.
"Trades are, however, always cyclical and the Harbour will continue to seek new commercial opportunities and investments to help future-proof the business."
During 2013 Belfast Harbour also noted a 2% rise in passenger numbers to 1.4m, the highest figure since 2004.  59 cruise ships also called at the Port bringing 105,000 passengers and crew.