Ministers Welcome City Quays Investment
Work has started on City Quays 1, one of Northern Ireland's largest office developments since the property crash of 2007. The £10m, 83,000 sq ft building represents phase 1 of Belfast Harbour's wider 20-acre, £250m City Quays development.
During a site visit today by Northern Ireland's First and deputy First Ministers, Peter Robinson MLA and Martin McGuinness MLA, and the DRD Minister, Danny Kennedy MLA, it was revealed that work on City Quays 1 will support 400 construction jobs.
Designed to Grade A specifications to appeal to inward investors and growing indigenous businesses, the five-storey building will help address the shortage of high-end office space in Belfast.
Len O'Hagan, Belfast Harbour's Chairman, said:
"At the end of 2013 it was estimated that there was less than 150,000 sq ft of Grade A office space available in Belfast. City Quays 1 will help address that growing shortage, an issue which is likely to be accentuated by recent inward investment announcements. Between 2012 and 2013 demand for Grade A space grew by 50% and Belfast Harbour's aim is to make sure that Belfast has the capacity to meet further growth in demand. Indicative interest from prospective tenants in the financial and business services, technology and creative industries has been very encouraging, more so than at any stage in the past five years."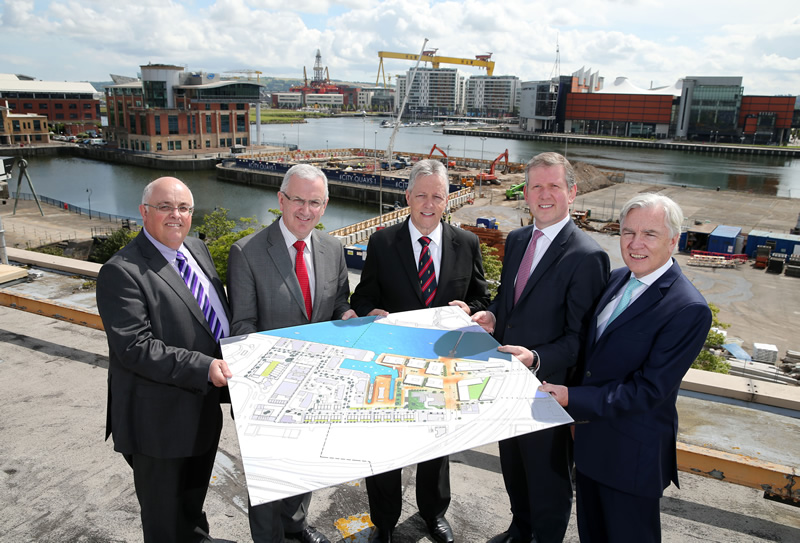 The First Minister Peter Robinson said:
"Growing the economy and creating jobs is a key priority for the Northern Ireland Executive. Our Programme for Government has a clear focus on creating high quality positions and today's announcement will ensure the best possible office accommodation in state of the art facilities. I very much welcome that this major investment in the £10million City Quays 1 project will provide 83,000 sq ft of new 'Category A' office accommodation and will provide 400 much needed construction jobs. Northern Ireland's local economy continues to grow as a prime investment location and I am confident that this investment by Belfast Harbour will attract further high value inward investment projects and create additional new jobs."
The deputy First Minister Martin McGuinness said:
"I welcome this £10million City Quays 1 project which provides a significant injection to the local economy including 400 jobs in the construction sector. Belfast Harbour is an important part of our history but its development and regeneration symbolises progress and how important it is to our future. Belfast Harbour is our main trade gateway, handling around 70 percent of seaborne goods here valued at £20billion. This office space will be built to the highest sustainability standards, in an ideal place for businesses and in close proximity to existing global companies including Intel, Merchant Warehouse, Grant Thornton and Capita. This first class office space helps when we embark on international trade missions and can point to the quality of what the north of Ireland has to offer."
Minister for Regional Development Danny Kennedy said;
"Encouraging regional economic growth through release of value projects such as City Quays lies at the heart of regional development policy. City Quays provides a practical expression of my Department's regional development objectives and demonstrates what can be accomplished through effective collaboration between the private and public sectors. The co-operation shown by the Belfast Harbour Commissioners in working with my Department to deliver this project provides an economic boost to the region."
Draperstown-based Heron Brothers, one of Northern Ireland's most successful construction and property firms, has been awarded the contract to build City Quays 1 which is being funded entirely by Belfast Harbour.
Located on a waterfront, city-centre site near Belfast Harbour Office, City Quays was master-planned by award-winning architect Sir Nicholas Grimshaw. Outline planning permission for the full City Quays scheme, which includes a mix of commercial offices, shops, cafes, restaurants, hotel and residential space, was granted on Monday (June 9th). A detailed planning application for City Quays 2, a £20m, 124,000 sq ft office adjacent to City Quays 1, has already been submitted.
Around 700 firms employing 21,000 people are based within Belfast Harbour Estate. Existing tenants with include Intel, Citi, Microsoft and Fujitsu. City Quays 1 will be available to occupants from early 2015.