Work Begins on New £20M Belfast Harbour Film Studios
O'Hare & McGovern Awarded Contract
Work on Belfast's newest film studio has begun 'on location' at Giant's Park, Belfast. The £20m project, which will include over 120,000 sq ft of studios, workshops and offices, is being developed by Belfast Harbour.
The success of Northern Ireland film productions such as HBO's 'Game of Thrones' has meant that demand for studio space is now outstripping supply. Designed in conjunction with Northern Ireland Screen and prospective customers the new studio complex will provide two state of the art sound-proofed studios as part of an overall site that will also cater for outdoor filming.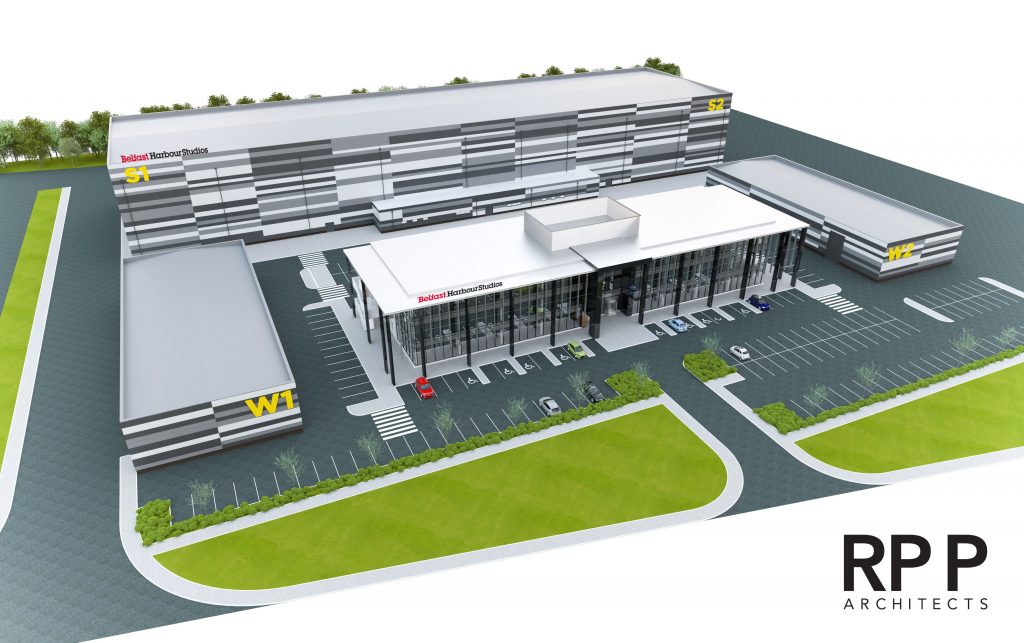 Newry-based O'Hare & McGovern has been awarded the contract which will support 200 construction jobs. Work on the studios is expected to be completed late this year and it is hoped it will be occupied by global film production companies.
Eamon O'Hare, Managing Director of O'Hare & McGovern said:
"O'Hare & McGovern is delighted to be part of such a major scheme, especially at a time when the profile of the film and drama industry in Northern Ireland is at an all-time high. This is one of the most exciting developments ever undertaken by the company. It's another showpiece project, which, when completed, will be the landmark building on Belfast Lough's foreshore."
Belfast Harbour Chief Executive, Roy Adair, said:
"Belfast Harbour has worked extremely hard to bring this project from plans to reality. Northern Ireland's production industry has gone from strength to strength in recent years with major shows such as 'Game of Thrones' and 'The Fall', and films such as 'High Rise', not only being produced in Northern Ireland, but within the Harbour Estate. In the past two years the industry has generated an estimated £137m of spend in the local economy. To keep pace with demand we identified the opportunity to develop new film studios. Belfast Harbour Studios will ensure that the local industry continues to attract new projects and develop significant job opportunities."
The complex will consist of two film studios, workshops which will be used for set construction and separate production offices to accommodate art departments, dressing rooms and wardrobe functions.
Given the strong demand for such high quality space the scheme has also been future-proofed to accommodate additional studio and workshop space on an adjoining two-acre site.
Richard Williams, CEO, Northern Ireland Screen, added:
"It is well known within the global screen industry that the demand for studio space currently outstrips supply in the UK. We are delighted that the proposed new sound stages on the North Foreshore are going ahead and with our recent successful track record in attracting large-scale film and television production to Northern Ireland, we remain convinced that more screen production will be forthcoming once the infrastructure becomes available."
Northern Ireland's film and television industry has grown rapidly since the Tom Hanks' produced film 'City of Ember' was shot in the city in 2007. 
In addition to six series of 'Game of Thrones', other projects produced and shot on location in Northern Ireland include 'The Frankenstein Chronicles' and films such as 'Your Highness' 'Philomena' and 'Dracula Untold'.